Fortunately I had found for Emma a "finished" steel hull. Since then I had only to build the rest. If I had a boat size of 8.8 m also still need to build the hull, so I would possibly never finished out of frustration. There are indeed various designs, which differ strongly in the build speed and complexity.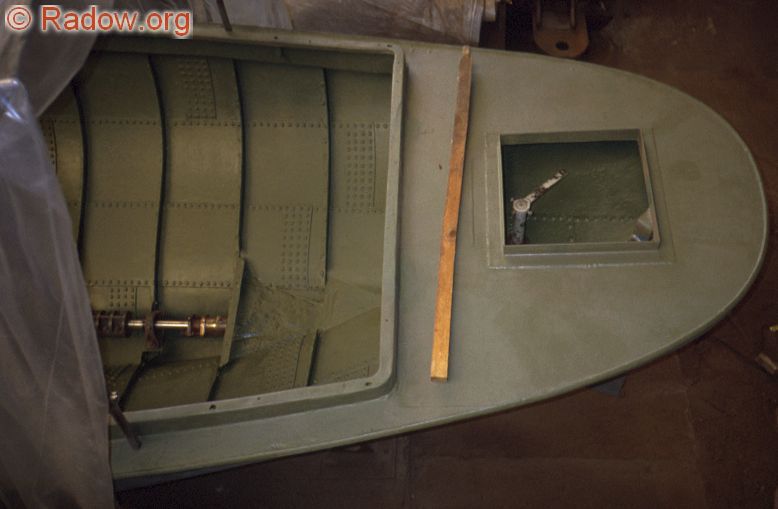 Of course as an extrema to the 4.0 ton Emma there is already the steam folding canoe Calypso - from Leipzig, Germany - however, I would like to be able to sit with pleasure beside the "payload".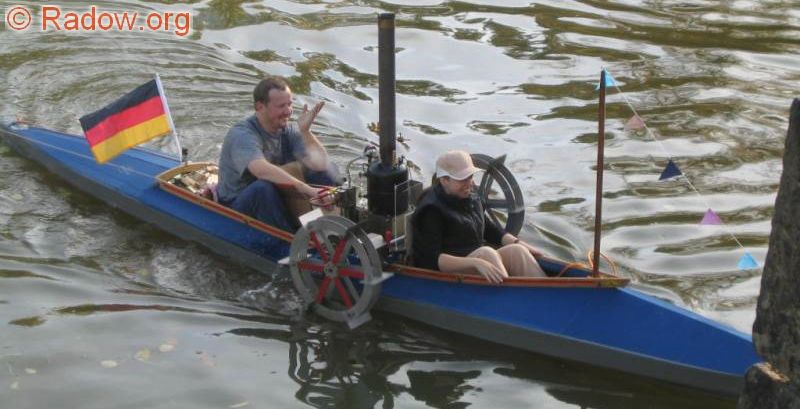 Who can find a nice plastic hull, has had, of course, happiness, and certainly a bit of paid for it. Even you can build something like this at home very difficult and it also takes time and requires experience, if the result is to vote. The interior of such a finished hull like here mostly succeeds and leads to beautiful results.





The solid wood construction is for the experienced amateur carpenter a challenge. You have to find the right wood and then be able to process it right - not for me!




Also require such boats lots of love to maintain it. The wood dries out in winter and next season you have to pump out a lot of water until all the joints are water tight by the expanded wood. Who likes to store his boat all year long and would only occasionally put it in the water should go for an other design.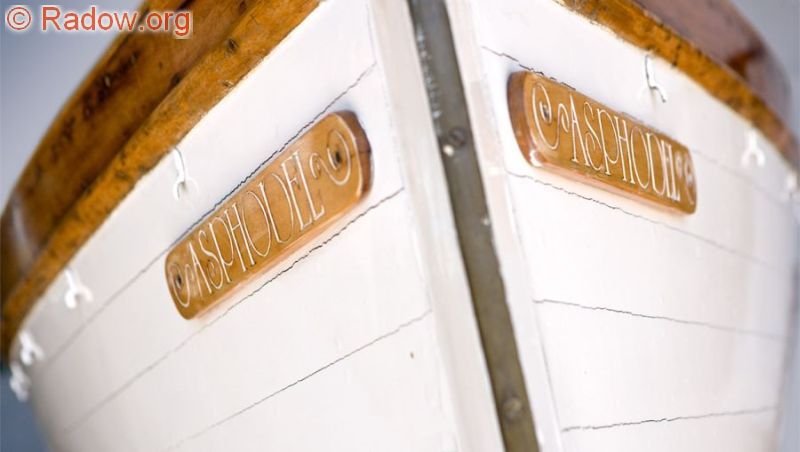 Another beautiful classic design is the carvel building. Here the planks overlap and are joined at the seam with copper rivets. Again, all of the classic drawbacks of a solid wood construction. Wood found - machine properly - mount correct - store under ideal circumstances - maintain it with love! Who cheats more, can "calm" the seams with epoxy and the outer skin with glass fabric. Nevertheless, timber then requires at least constant observation. - I always like to admire such a well-maintained boats.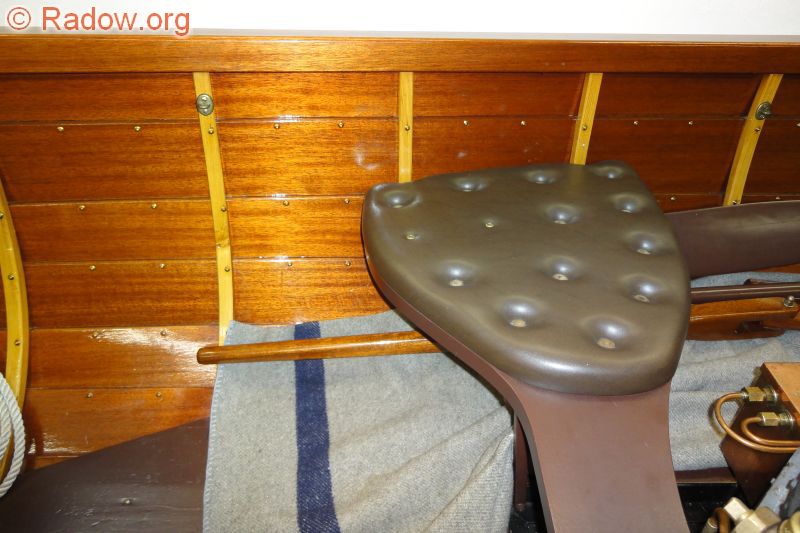 On an official journey to Paris in November, 2010 I could snap by chance a few boats located in construction with other designs for you. For the moment one becomes envious under which excellent conditions they may work there of course. The city of Paris has provided a big complex for water sportsmen. In each of these boat houses other water sport associations are accommodated to favorable conditions. The French steamboat association divides there a hall with other water rats.





Beside the real boat sheds there also is always a heated "hobby room". Out of this now a few photos for the boat construction technologies. With all these boats it does not concern steamboats. Body construction method is, however, the same one.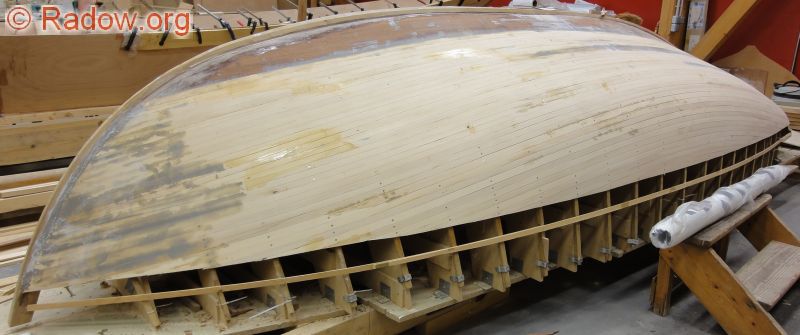 This becomes once a sail boat. The strip construction method is of course the king's way. One is absolutely free in the hull creation and can copy therefore all classical lines. One buys this to himself by a lot of work. First the Mallen (the frame scaffolding which is thrown away after) must be built and be adjusted very precice. Afterwards strip by strip bust be matched and glued to the other. Then is a lot of filler and sanding inevitably. If one puts on a few layers of glass fabric, these boats are later indestructible.

On another construction site in Paris the copy of a Venetian gondola was to be admired. At place of the traditional body planks of full wood it was used here for the skin 12 mm of plywood. Many frames are noteworthy with the construction method with plywood and epoxy. In the original they served to give the necessary cohesion to the skin from single boards. With the respectable plywood used here for the skin, also none more of the disadvantageous qualities of the full wood any more holds, the big number of frames probably serves above all antique optics.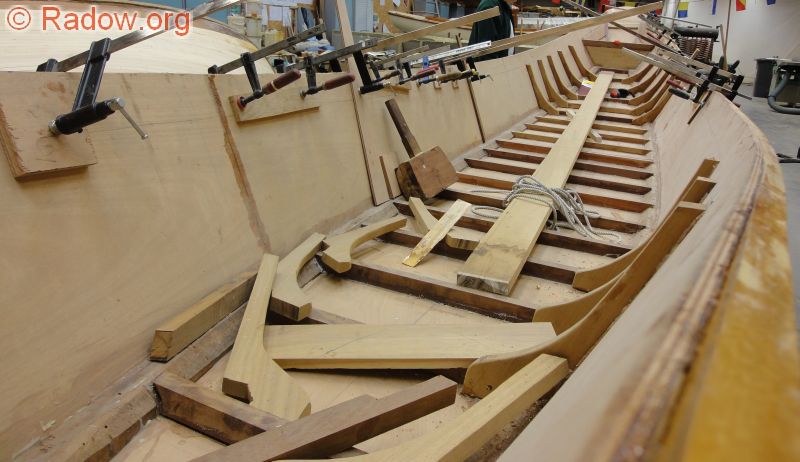 As the third variation one could see a plywood construction method with glass fabric and epoxy. Also this boat should become once a sail boat. By the fact that the hull is formed only by a very wide base and a smal shell plate a lot of expenditure was necessary with additional temporary stiffening of the planks from the outside.
Now with the wooden-coloured "feeler gauge" (on top in the boat) the frame form is determined step by step, transferred on the real frame boards and this is sawed out afterwards. If these frames (green board in the boat) have glued in later, the body and the deck stands by itself. It is unclear to me, why the deck line (black line in the upper edge) was not sawed from the start ready...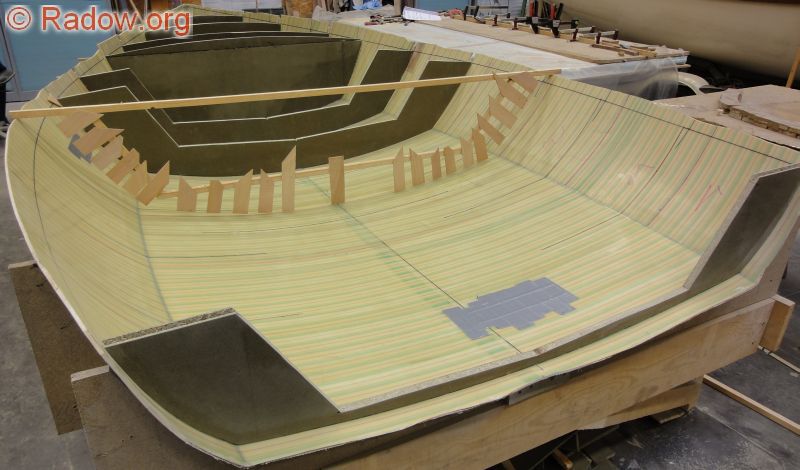 One of the most modern boat construction form is probably the stich and glue method which comes to desired form without such additional, lost auxiliary constructions. Herewith very light hard chined boats can be provided relatively fast. Topically only the Venus from Switzerland which was built thus is known to me as a steamboat.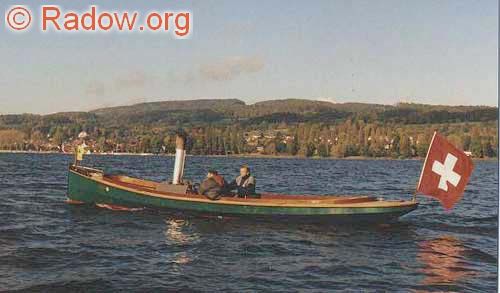 When I thought during my boat planning also once about a steam canoe, I have bumped into the sides of "Simpel Boot" (german translation for simple boat). Here it is clearly demonstrated, how one from exactly sawed plywood boards,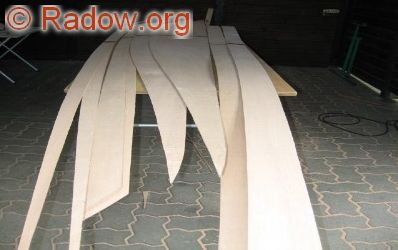 by the "stich and glue" technique with Epoxy,





can easily build a boat.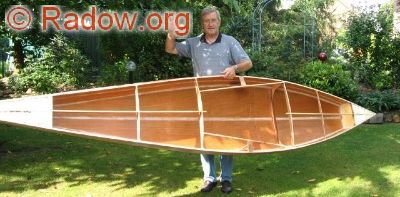 This 4.4 m long boat is varnished on this photo already inside and with solid impetus bodies equipped just 9 kg. Wilhelm has made available the three last photos shown here to me kindly. More of "Simpel Boot" you can find under simpel-boot.de

For me the idea of "Simpel Boot" is a high-class sign. To me it depends with my next steamboat on exactly these qualities: to build simple, to maintain simple and to travel and store simpel. Now my intention is not to equip simply a kayak with a steam engine. However, this construction method has done it to me. Meanwhile I am in active contact with Wilhelm from "Simpel Boot" and we are about to develop a small sewed steamboat. Wilhelm with the Know How of the "boat tailor" and I with the experiences of my last steam years and my personal specifications - more in addition on the following pages.
Specification - Part 4
| | |
| --- | --- |
| Hull construction | stich and glue |
| | from plywood |
| | glued with epoxy |